EDINBURGH PLASTERING- UPDATE FROM THE ROAD (EH10 MORNINGSIDE)
Crooked, uneven or wonky looking wall? This Edinburgh customer called Paintworks and Plastering out to take care of a series of uneven walls, which happend to be on a very tight staircase. The plastering service hire request was for "skimming"– a plastering technique.
Plaster Skimming is a common plastering job many of our customers in Edinburgh hire us to do. The technique is called "skimming" and its primary benefit is smoothing your wall in preparation for painting, hanging shelves or wallpapering. Skimming involves traditional lime plastering, using locally sourced lime. Lime plastering is non-toxic and gives your wall or structure strength, flexibility and longevity.
This Morningside EH10 customer wanted this stairwell skimmed with finishing plaster. The difficulty was due to the angles and confined space. Here is a view of the stairwell requiring the plastering.
PROBLEM: The question of how to plaster a very steep staircase— call in a good plasterer in Edinburgh!
Service: Skimming/Lime plastering: plastering wall smoothing service.
The re-plastering was completed… very carefully.
Please Note: Paintworks & Plastering of Edinburgh are fully insured up to £5 million for Employers Liability Insurance and £10 million for Public Liability Insurance.
Here is an image of the uneven walls, skimmed with lime plastering…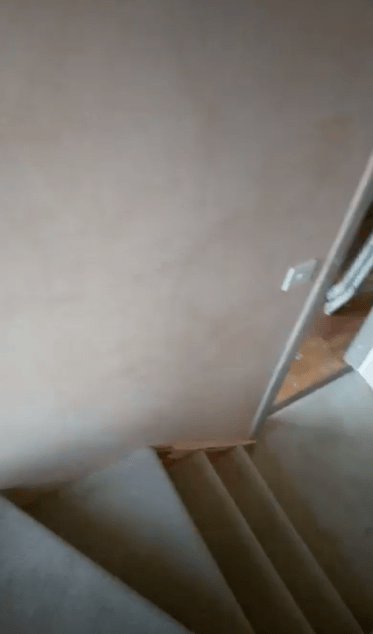 SOLUTION: Fast plastering service, a quick skim with expert handling of tight spaces.
This Edinburgh customer was very happy with the wall smoothing result of our plastering service. In her words:
"Derek provided a good quote, turned up when he agreed to, and worked hard to finish it on time. He did a smashing job, and best of all left my home tidy. Couldn't ask for anything more".
Contact us for a price-matched quote on your plastering job today!
Edinburgh Plastering- Update from the road (EH10 Morningside)